Top Ten Math Insults Poster
This one is just for fun; not a lot of educational value in it, I suppose, but it does get students wondering about words they use in everyday life that they weren't aware had mathematical meaning.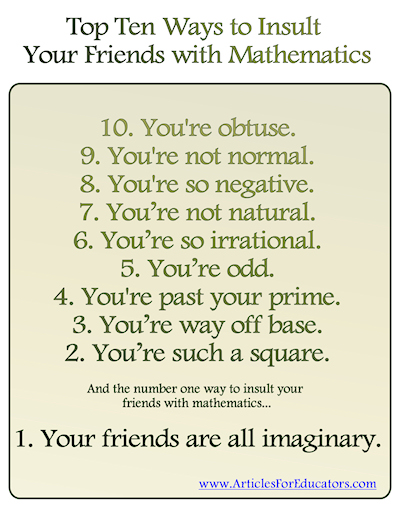 To download a high-resolution copy of this image to print and hang in your own classroom, click here:
High Resolution Math Insults Poster.
Submit a comment
Please keep comments courteous and on-topic. All comments are moderated by the article author.
Common Destinations
Click an icon below for some of the commonly accessed pages at Articles for Educators

Click here to read questions submitted by other teachers, and help them out from your own experiences.

Write up a lesson plan, or just a paragraph or two about your favorite teaching trick.

Articles for Educators provides high quality resources for teachers, administrators and students.