Sun and Planets by Size - Science Classroom Poster
Seeing the planets and the sun all together on one sheet, with accurate relative sizes, can be quite an eye opener for students. That's what this poster gives.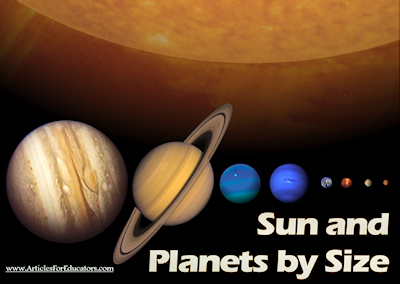 In order from left to right are: Jupiter, Saturn, Uranus, Neptune, Earth, Venus, Mars, and Mercury.
To download a high-resolution copy of this image to print and hang in your own classroom, click here:
High Resolution Sun and Planets Poster.
Note: This poster has a lot of black space in it, so it'll burn up your black ink! Make sure you're printing it on good quality photo paper so it'll last a long time!
Member Comments
One of my favorite activities for students studying the solar system is to have them make a scale model of the solar system using the same scale for the objects and the space between them. They start out eagerly cutting out circles to represent the planets, their first problem is when they try to make the sun, I usually had a roll of adding machine tape and suggested they make a strip equal to the diameter of the sun. The next problem of course is finding where to place them. We end up with a topographical map and figure out where they would have to be placed on a familiar road to complete the system. A real eye-opener!
Submit a comment
Please keep comments courteous and on-topic. All comments are moderated by the article author.
Common Destinations
Click an icon below for some of the commonly accessed pages at Articles for Educators

Click here to read questions submitted by other teachers, and help them out from your own experiences.

Write up a lesson plan, or just a paragraph or two about your favorite teaching trick.

Articles for Educators provides high quality resources for teachers, administrators and students.