Pumpkin Pi - Fun Math Classroom Poster
There are plenty of pictures of pumpkins that have had the pi symbol carved into them; this one is special, because if you turn the poster upside-down, it's got a quirky little grin, and the stem is like a goatee.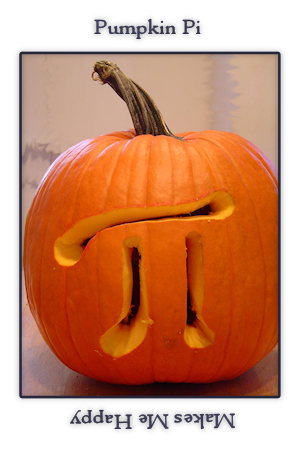 In my classroom, the poster stays right-side-up for about half of the year, and then someone (sometimes it's me, some years it's a student) flips it upside-down so we see the face instead of the pi symbol.
The version of the poster in my classroom doesn't have the text "Pumpkin Pi" and "Makes Me Happy." Honestly, I think I like it better without, because you have the fun of seeing kids (sometimes long into the school year!) realize that it's a pictorial pun.
If you don't want the text, just trim it off after printing!
To download a high-resolution copy of this image to print and hang in your own classroom, click here:
High Resolution Pumpkin Pi Poster
Submit a comment
Please keep comments courteous and on-topic. All comments are moderated by the article author.
Common Destinations
Click an icon below for some of the commonly accessed pages at Articles for Educators

Click here to read questions submitted by other teachers, and help them out from your own experiences.

Write up a lesson plan, or just a paragraph or two about your favorite teaching trick.

Articles for Educators provides high quality resources for teachers, administrators and students.