Multiplicative Property of Inequality Poster
This poster was hanging on my wall for a few weeks before someone got the joke*. Those are (in my opinion) the best kind of posters.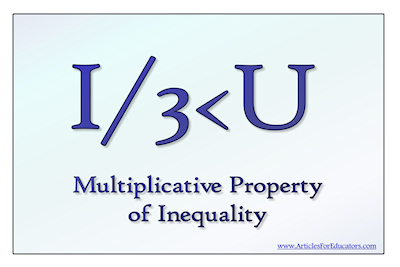 .
To download a high-resolution copy of this image to print and hang in your own classroom, click here:
High Resolution Multiplicative Property Poster
.
* For those who need some explanation, the multiplicative property of inequality says that you can multiply both sides by the same positive value, and you'll get another true inequality. In other words, multiplying both sides by 3 (the obvious choice) results in "I <3 U" ("I love you," using texting and internet shorthand).
Submit a comment
Please keep comments courteous and on-topic. All comments are moderated by the article author.
Common Destinations
Click an icon below for some of the commonly accessed pages at Articles for Educators

Click here to read questions submitted by other teachers, and help them out from your own experiences.

Write up a lesson plan, or just a paragraph or two about your favorite teaching trick.

Articles for Educators provides high quality resources for teachers, administrators and students.